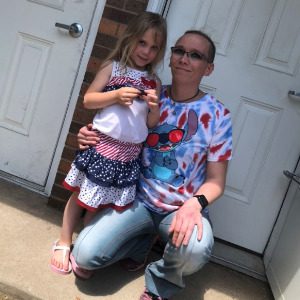 Sarah with her daughter at their apartment.
Sarah, a team member at the Lake Hallie Retail Store, can sleep easier knowing she and her 4-year-old daughter are home, thanks to the Goodwill NCW Career Navigator program.
Sarah and her daughter moved into their two-bedroom apartment on June 1, capping off a nearly six-month process that started tumultuously with her losing her housing and struggling to find a place to live to getting the help she needed, researching low-income housing options, filling out applications, waiting for approval, signing the lease and ultimately moving in.
It's a dream come true that was realized because of Hoi VanDong's relentless pursuit of securing a single mom a place to live while living out Goodwill NCW's value of a Care for People and not stopping until they were successful. Hoi, who is a Career Navigator, supports team members at the Lake Hallie and Rice Lake locations.
"It's been very much a privilege," Hoi said, adding that it's important to take the time to acknowledge team member's struggles, listen and help fix them or lighten the load. It shows team members they are valued as people.
"It's part of my role. It's simply a drive to help people and meet their needs."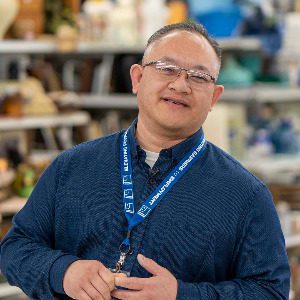 Hoi VanDong, Career Navigator
Goodwill NCW, Lake Hallie and Rice Lake
For Sarah, having a place to call her own has removed an immense amount of stress from her life and provides more stability for her daughter. "It's nice to have my own place rather than wondering where we're going to be."
In late 2020, Sarah's relationship with her then boyfriend ended, and he told her that she and her daughter would have until the end of February to move out, forcing Sarah to move in temporarily with a friend who lives 45 minutes away from work and to rent a storage unit for her belongings.
"I know that this whole situation has been putting a lot of stress on her mentally, physically and emotionally," a team leader said when referring Sarah to Hoi for assistance.
Sarah said she kept her emotions bottled up as long as she could so she could do her work, but, "One day I just broke down."
She needed a hand and found a helping one with Hoi, who assisted in gathering documents, researching options, making phone calls, completing applications and supporting Sarah.
"He helped look at other avenues that I didn't even know existed on top of what my mom showed me," she said.
"If you want people to be at their best in terms of workers, it would be difficult for them to be their best if they lack basic needs," Hoi said.
Knowing that Sarah lacked a basic need and that a child was involved, Hoi said he mentally imagined himself in her situation and understood how overwhelming she felt.
"As I helped coach and guide Sarah through the process, it created more of a sense of urgency to help meet that need. It's kind of a helpless feeling that I don't like. You can't fix it for her immediately. There was so much waiting."
For her part, Sarah feels supported and appreciates that when she's not herself at work, people will pull her aside and ask. As for her apartment, "It's slowly coming together."
She's just happy to be home.