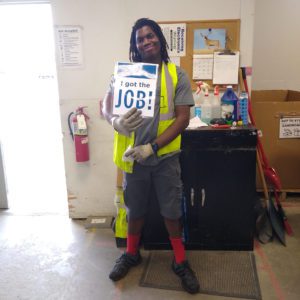 When Daniel joined the Rhinelander Retail Store through an 18-month work experience program through Goodwill NCW's partnership with Inclusa and support from Headwaters Inc., he did something unexpected.
He finished the program after two months and applied for a job. Store Team Leader Heather Kliss hired him immediately.
"This program typically lasts 18 months and helps people with barriers get job experience," said Brian Pond, Goodwill NCW Manager of Business and Partnerships Development. "Daniel excelled and applied for a job after two months in the program. I can tell you this is incredibly rare. When meeting Daniel you could tell that he was the perfect fit for Goodwill, and with supports in place by us and our program partners, Daniel did nothing but excel in his short time in the program."
Eager, loyal and generous, Daniel has brought excitement and energy into the donations production area.
"Watching Daniel's work ethic and excitement to work has been very humbling," Heather said. "Daniel does not shy away from work — he puts his gloves on with excitement and rushes toward it! We are very grateful that Daniel and his family chose us to be a part of Daniel's development. In such a short period of time, Daniel had outgrown the program and went on to full employment. Daniel and his family should be so proud, as all of us here at Goodwill are very proud of Daniel. We are lucky to have him on our team."
"Daniel's story is amazing," Brian said. "With Daniel's mother's support as well as support from our program partners, the store and, of course, Daniel's hard work, Daniel excelled and broke down every barrier."