Life just feels lighter and livelier when the sun is shining and the birds are chirping. Celebrate the coming spring with these 3 creative DIY ideas to welcome spring that honor things we're able to enjoy again as Wisconsin wakes up. Green growth, warmer winds, renewed spirit, bees and butterflies –- we're so looking forward to seeing you!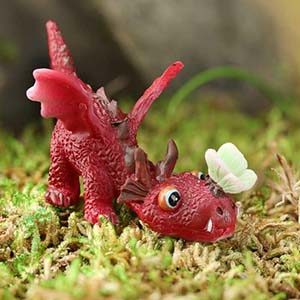 Photo credit:
pinterest.com/pin/179932947595813826/
Miniature outdoor scene
Explore your creativity and imagination by making a whimsical miniature scene in one of your outdoor spaces. This is a great project to do with kids.
As green pops up from the ground, make your own outdoor miniature scene with thrifted accessories and one-of-a-kind finds from Goodwill NCW. Let treasures speak to you as you walk through the aisles and create the plotline for your outdoor scene from trinkets you find in kids' toys, porcelain figurines, glassware, jewelry, wood and metal hardgoods.
Have fun transforming your potted plants, corner gardens, flowerbeds and wooden stumps into angel and fairy gardens, gnome scenes, swan ponds and magical animal kingdoms.
Upcycled wind chime
Make a trendy bohemian wind chime for your yard to welcome spring's warmer breezes. One concept that works well is hanging a thrifted pitcher, old forks, knives and spoons and secondhand sparkly jewelry. Attach a crystal or stringed beads from the pitcher spout to resemble liquid pouring out. Or drill some drainage holes in the pitcher and use it like a flowerpot. Bougainvillea, fuchsia and lobelia are all flower types that would drape beautifully from the pitcher.
Variation: Looking for a fun indoor variation of a bohemian hanging mobile? Debra, a thriftanista from the Fox Cities, makes "sun catchers" (pictured) from old lamp parts, beads and crystals that she hangs in her windows to capture the sunlight as it floods in. Thanks for the uplifting idea, Debra!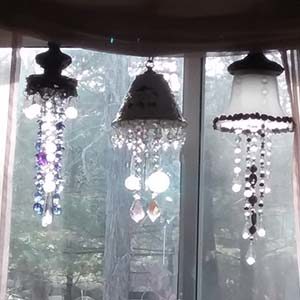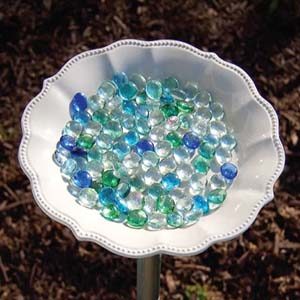 Photo credit:
chickenscratchny.com/bee-and-butterfly-waterer/
Pollinator watering station
Just like humans need water to survive, so do bees and butterflies. Bee (pun intended!) a good friend to pollinators this year by hosting a watering station in your yard where they can rehydrate through the spring and summer. Thrift a shallow bowl or serving plate and fill it with blue and purple gemstones, colors that bees and butterflies easily can see. Remember, they can't swim so only fill the container with enough water that the gemstones aren't fully submerged. This allows the stones to act as landing pads where pollinators can rest as they get a drink of water. If you're passionate about pollinators, check out these 10 ways you can help pollinators thrive.