Let your holiday spirit sparkle with these DIY holiday glitter houses. Whether you're looking to start building a village or want to add to an existing one, Goodwill NCW is the place to shop!
DIY Holiday Glitter Houses Project Steps
Supplies needed:
Ceramic village buildings/houses
Acrylic paint (pick out colors that match with your other décor)
Variety of glitters that match your paint choices
Clear glue or Modge Podge
Glitter spray or clear spray to set the glitter
Brushes
Paint your house.
Using acrylic paint, select a color to paint your building. Let the first coat of paint dry and add an additional layer, if needed.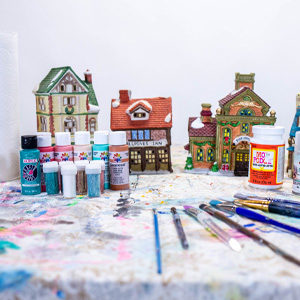 Apply glue & glitter.
Cover a section of the building with glue, then sprinkle on the coordinating glitter color; working in sections ensures your glue stays tacky enough to hold the glitter in place. Continue this process until the whole building is covered in glitter. Let it dry.
Apply glitter spray or clear spray.
To help the glitter stay in place, use a glitter spray or clear spray as a final layer on your house. Let it dry.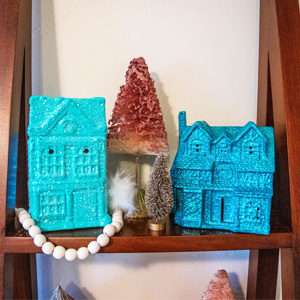 Lastly, it's time to set up your colorful winter village and enjoy the new addition to your seasonal décor!