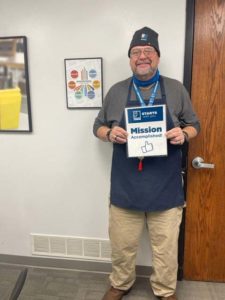 Gerald loves his job because he enjoys being at Goodwill NCW. It's always been his favorite store, and he loves being able to interact with his customers while helping them check out.
Gerald's job has helped improve his life after a traumatic brain injury, and he enjoys helping others improve their lives, too, through his work. Being hired at Goodwill has given him hope that there is a better future for him with a decent job.
Gerald is a goal getter. He is very reliable, has never missed a shift and is always willing to step up and help out wherever needed. He's self-motivated and is always looking for what needs to be done next. He's friendly and engaging with the customers and really makes them feel welcomed. We're blessed to have Gerald join our team.