Nothing is black and white for 10-year-old Sidonie. Instead, life is a beautiful blend of every color imaginable.
"I really love colors, and I have this whole colorful world in my head," Sidonie said. "When I draw or color or create something, it feels like that world can come out on paper for other people to see."
Sidonie's design is the winner of the Goodwill NCW Reusable Tote Bag Design Contest. Shoppers will be able to purchase Sidonie's colorful bag plus other design options from Goodwill NCW starting in November. Goodwill NCW is putting the planet first and moving away from plastic bags starting Jan. 1.
The Cape Coral, Fla., girl was visiting her grandparents in Wisconsin Rapids over the summer and found out about the contest, her mom Stacey Mitchell said.
"We visit my parents in Rapids a few times a year and go to the Goodwill store every time," Stacey said. "We always need new snow boots because we live in southwest Florida, and the girls love to find clothes, of course."
While she takes her 90-year-old father around the store, the girls entertain themselves.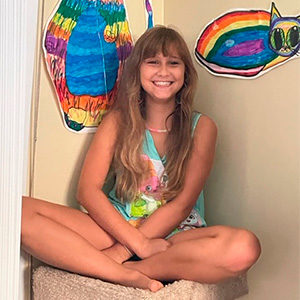 "Sidonie does a lot of drawing and coloring," Stacey said. "She was so happy to see the contest flyer when we went to Goodwill this June and went to work on the design the minute we got back to my parents' house. She will love to have some bags at home in Florida and will be very happy to see them in the Goodwill store when we come up in December this year!"
Sidonie said her winning design was inspired by a friend who showed her a tube pattern, and she decided to put them together like patches with the Goodwill NCW logo in the center for her entry.
"When I found out that I won the bag contest, I was in shock," Sidonie said. "I had kind of forgotten about it because we live so far away. Now I am excited to see my design on the bags. I also hope my design makes them feel happy because of all of the colors."