Did you know, plastic bags are used for 12 minutes each on average, then become waste and can take a minimum of 500 years to biodegrade? To make things worse, there is evidence that single-use plastic bags break down into toxins that contaminate food, water and air. Yikes!
Goodwill NCW is excited to join organizations like Aldi and Costco to care for our planet by going plastic bag free at our checkouts, starting January 2023.
Get ready to remember your bags when you shop our stores and keep these tips top of mind.
Add to your style—shop our reusable bags! If you forget your reusable bags after all, you will be able to select from multiple designs for either $0.99 or $1.99 in our stores. Check out our contest-winner, 10-year-old Sidonie's design, which will colorfully complement any outfit or go for our "I ♥ Goodwill" design. Some of the designs are limited edition offerings, so if you have your heart set on one, visit us soon!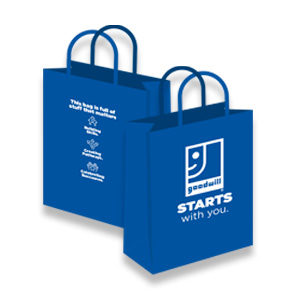 Enjoy your treasure hunt. We work hard to bring you a great shopping experience. Going plastic bag free is an important step that supports our sustainability values. As we adjust to this change and establish a new sustainable habit, thank you for being patient with yourself and our team. We can't wait to welcome you into our stores in 2023.
Thank you for joining us in putting the planet first, and don't forget to tuck a few reusable bags in your trunk for your next shopping trip.