The price tags on fitness gear shouldn't raise your heart rate; save that for when you exercise. Whether you are working out at the gym or at home, keep your fitness budget in shape with these helpful tips on how to get fit with thrift at your local Goodwill.
Find workout clothes to fit your style
When searching our clothing racks for workout apparel, you'll often find items that still have tags attached or are like-new. Not only are these items in excellent condition, but the prices are also lower than retail stores.
Stock up on staples
Black leggings, comfortable shoes and tees should be staples in your workout wardrobe. The best part? These essentials can be paired with existing items in your closet to go well beyond your next workout session—create a casual weekend outfit inspired by your stylish new choices.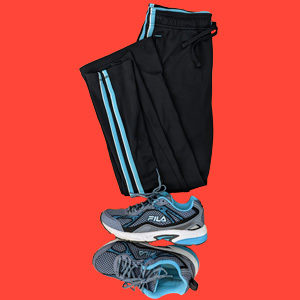 Discover your new workout routine
Not sure what type of workout works for you? In addition to a great movie selection, our DVDs (priced at only $1.99 each!) include a variety of workout options. From yoga to dance, find the instruction that inspires you and feels great.
Get back to basics: Jump rope
Sometimes a simple piece of equipment can help you get amazing cardio. Cue the jump rope. Check out the benefits of jumping rope and explore your local Goodwill shelves for this fun way to raise your heart rate.
Be safe and cushioned: Workout mat
A workout mat can keep your hands and feet comfortably in place without slipping or sliding. Working out on a hard surface while working up a sweat can get slippery, and carpeting isn't the safest surface for a high-impact routine. A workout mat is the perfect solution.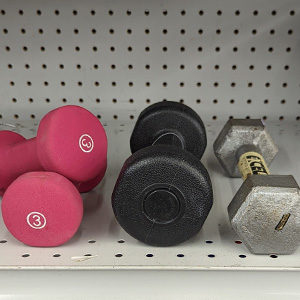 Add some weight: Dumbbells
The versatility and compact size of dumbbells make them a must-have for your workout routine. Use them in a variety of exercises and, afterwards, easily find a spot to store them away. Opt for the fixed weight dumbbells, adjustable weight dumbbells or grab a unique spin on the dumbbell—the shake weight.
Challenge yourself: Pull-up bar
A pull-up bar can be intimidating, but it's fantastic for upper body workouts. A door pull-up bar allows for many grip options that target different areas of your upper body. If you are looking to start a slightly more intense fitness program, you will want to add this essential to your cart.
Focus on food: Blender and healthy recipes
Nutrition is an important part of your health, along with exercise. Be sure to grab a blender or juicer to go with your fitness journey and check out our wide selection of recipe books to find inspiration for your next healthy meal. Buying secondhand not only will save you money, but it's also a better choice for the environment.
Quality, affordable workout clothes, exercise equipment and other items from Goodwill NCW will get you well on your way to reaching your goals. Take pride in knowing that your purchases help people in your community while you are getting fit with thrift.