If you're getting to that point of winter where you're desperately ready to venture off the couch and get your blood moving again, grab a friend and get lost in Goodwill with one of these 3 fun ideas for a thrifting adventure.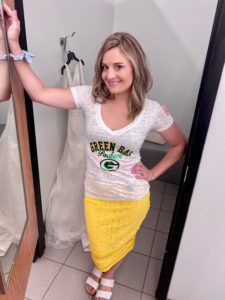 Photo credit:
Dorothy from Onalaska, Wis.
Make it a thrifting date
We love this idea submitted by Dorothy from Onalaska. Dorothy and her sweetie went to Goodwill last year and picked out outfits for each other. "Apparently he wanted me to say, 'Go Pack go!" she said about his outfit choice for her.
Feeling bold? A fun spin to this idea is to put a $10 limit on each other's outfit, then go out to a restaurant with the looks you picked out for each other.
Take a thrifting road trip
What's more fun than visiting one Goodwill? Hitting up multiple Goodwills on a thrifting road trip! Check out all the Goodwill locations we have in north central Wisconsin. Make a day of it and put together a route of Goodwills you want to hit up across the state, then take to the road with a bestie who wants to have some thrifting fun.
Checking out multiple Goodwills is a great idea when you have a specific creative vision in mind. For example, if you plan to make your own candles, snatch up all the white wax you can find across several Goodwills. If you're making a themed bouquet, buy up all the purple flowers you're able to find. If an outfit of yours absolutely needs red shoes, chances are good you'll find the perfect fit the more stores you visit.
Go on a thrifting scavenger hunt
Who's ready for some friendly competition? Organize a Goodwill scavenger hunt by coming up with a list of thrifted items, and then see which of your friends can cross the most things off their list! Here's a Valentine's themed list. Otherwise, you can find plenty of other thrifted scavenger hunt lists online, like this one. Let the games begin and the thriftiest win!