Road trips are as much a summer family tradition as barbecues, fireworks and festivals. Packing up the car, heading out for adventures unknown and cruising along the open road make for the best memories made together, especially if you can keep everyone along for the ride happy by planning a route to explore attractions or discover hidden treasures along the way. Stock up on snacks and fun things to keep the kiddos busy, and everyone wins. Shop thrift to save money on buying everything you need to make your road trip a success while providing job training and other opportunities for individuals who have disabilities and other barriers. Mom blogger Misty offers her tips on shopping thrift for summer road trips. Here are our tips on how to shop thrift for a road trip that you can find at your local Goodwill. Once you are back from your trip, donate the items you don't want to hold onto and keep the sustainable cycle going.

Essentials
Cooler: Pick up a cooler (large or small) to store your drinks and food. While eating out on a road trip seems like a great idea, it can be expensive and takes time. Starting at $2.99.
Water bottle/thermos: Pick up a water bottle and stay hydrated. Just be sure not to have too much or you'll be making frequent pit stops. Grab a thermos for coffee refills at the gas station. Starting at $1.99.
Travel blanket: Stay comfortable on a long drive and warm up if the A/C is too cold with a cozy blanket. They also are perfect for an unplanned picnic. Starting at $2.99.
Flashlight/batteries: If you have a night emergency you will be happy you brought along a light. Headlamps and flashlights also will come in handy if you go camping. Be sure to pack some extra batteries. Starting at 99 cents.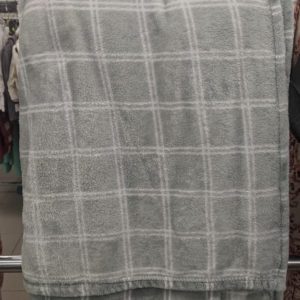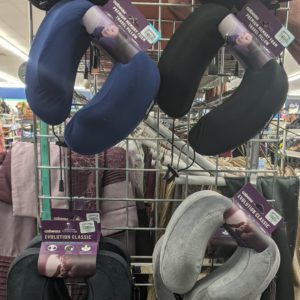 Pillow: Bring along a travel pillow for those times when it's not your turn to drive and want to get some sleep or when the kids need to settle in for a nap. Starting at $5.99.
Bag/tote: Totes, bags and backpacks not only can carry items back and forth from the car, hotel or picnic area, you also can use them for much-needed storage in your car. Starting at $1.99.
Clothing
Pack for any situation and be sure to have clothing that can be layered, including zip-up sweatshirts and sweaters. Unpredictable weather can limit or put a stop to your plans so be prepared by having a raincoat and umbrella packed away.
Footwear: For a long road trip, grab a pair of slippers, take off your shoes and get comfortable. Starting at $3.99.
Sunglasses: For the early-morning or late-day glare while driving, grab a pair of sunglasses. Starting at $2.99.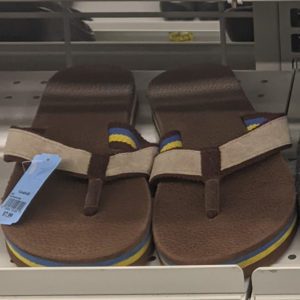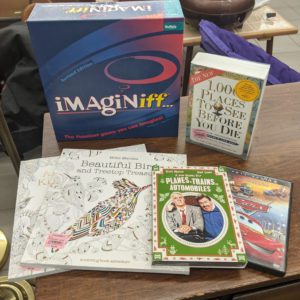 Entertainment
Books: Pass the time in the car or downtime once you reach your destination with a variety of books. Starting at 99 cents.
Movies: Stop by the DVD section and grab a few movies for the trip. If you don't have an in-car DVD player, swing through the electronics section and grab a portable one. Starting at 99 cents.
Games: Road trips demand games, whether they are travel games, cards or board games. Starting at $1.99.
Headphones: Being in a small space with more than one person for a long period of time can be stressful. Headphones provide a bit of space to yourself. Only $4.99.
Football/Frisbee: An easy item to pack, footballs and Frisbees don't take up much space but can be a fun and active way to pass time while at a rest stop or at your destination. Starting at 99 cents.
Miscellaneous
Roadside emergency/first aid kit: Use one of the totes you found to use as either a roadside or first aid kit. Store such basics as bandages and gauze, but you also can store prescription medicine, sunscreen, allergy medicine, aspirin and bug spray.
Maybe most important, when traveling with others be sure to bring along your patience. Being packed into a vehicle with others can sometimes strain your relationships, but road trips can lead to some of the most amazing memories.