Whether you are staying local this summer or traveling far and wide, your local Goodwill NCW has what you need for all of your summer adventures! Your go-to summer outfits should be made up of pieces that make you feel confident and ready for days in the sun and nights outdoors. I love to shop for basics when preparing my wardrobe for summer so I have plenty of options to mix and match. This makes packing for overnight trips or longer vacations a breeze!
Here are four outfits to sport in the sunshine. Each of these looks include simple pieces that you can find in your own style and pair together.
On the Beach
This first look is something that I'd definitely pack for a beachy vacay. I paired my black one-piece suit with my go-to denim shorts and a pair of fun cheetah print sandals. The hat and cheetah earrings are the perfect accessories to elevate the look. If you're flying to your beach vacation spot, the hat is a stylish accessory that not only completes your outfit but can also be worn on the plane, saving you some extra space in your luggage.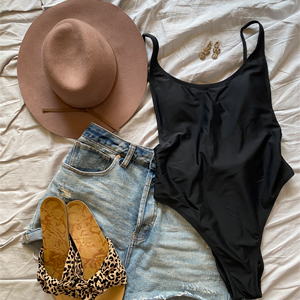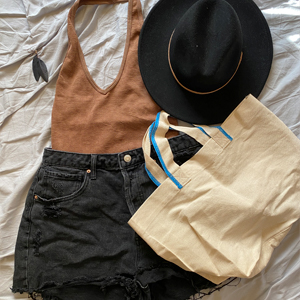 Market Ready
Next is an outfit that's perfect for the local farmers' market. Again, I have a pair of denim shorts. This time they are paired with a comfy halter tank. I opted for another hat to accessorize with as well as some feathery earrings. Of course, you have to bring a tote to the market too!
Hiking Adventures
Out of town and in town, I'm always down for a hike. A pair of biker shorts, some tennies, a sports bra or a lightweight t-stank top, are all pieces that I'll typically pack in an overnight bag. I do this in case I decide to get active on the go or in case I simply need a backup, casual outfit. To enhance the sporty look a fanny pack can be added. Personally, I love the trend of wearing belt bags as cross-body bags.
Live Music Venues
If I'm seeing a country artist, you will absolutely see me in my cowboy boots. I recently found this dress that is cut shorter in the front and longer in the back, so my boots can have their moment to shine. Flowy summer dresses are the best since they are comfy, breathable, and effortlessly make a beautiful outfit!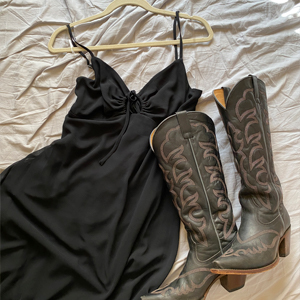 A few staples I'd be on the lookout for while thrifting fits for your summer adventures include simple tanks, denim shorts, fun hats, and small on-the-go bags. Make sure to find pieces that make you feel good! That's what's most important when it comes to summer style.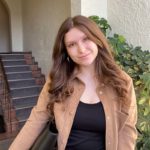 About Megan Roshak: A lifestyle blogger from Green Bay, Megan loves style, a good deal and supporting her local Goodwill. You can find her on Instagram @megan.roshak.