Talk to almost any employer today and one common topic that will surface is the challenge of hiring enough workers. Thrivent's location in north Appleton, Wisconsin was no different, so they started seeking outside-the-box solutions and found Goodwill NCW's Group Supported Employment program.
"A Thrivent employee recommended, 'Have you ever considered differently abled workers,' and at that point we hadn't," Laura Loewenhagen, Manager of Materials and Distribution for Thrivent Operations said. "Goodwill had exactly what we were looking for. Group Supported Employment really aligns with what we were trying to do."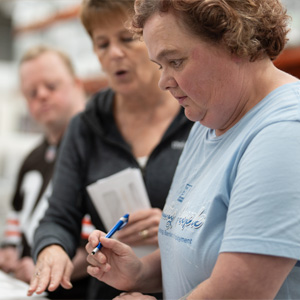 Group Supported Employment is an employment training service provided by Goodwill NCW in partnership with local businesses and funded in part by the Wisconsin Department of Health and Human Services. Through the program, a small group of individuals complete specific work assignments while integrated onsite at a local business and receiving continuous support from a Goodwill NCW Job Coach.
Teesha was one of the first participants in the Group Supported Employment program. She is now building job skills, like how to best communicate with her coworkers, as she assembles member benefit kits for Thrivent.
Teesha puts heartfelt care into assembling Condolence Kits which are sent to members who have recently lost a loved one. "I like to do signing cards for people who lost a family member. It makes me sad and I'm trying to be kind to them," Teesha said. "I signed a card for someone that lost their family, and they called to say thank you to me."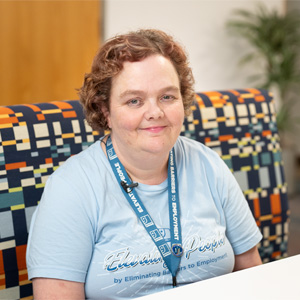 The goal of Goodwill NCW's Group Supported Employment is for individuals to gain experience and skills that lead to permanent employment in an industry that aligns with their interests and qualifications.
"I used to work here two days, now I'm here four days," Teesha said. "They tell me I do really well here. I like doing four days now because I like it here."
Goodwill NCW's Group Supported Employment program launched in early 2023 and currently has four sites, three in Appleton and one in Oshkosh, located at Pierce Manufacturing, Werner Electric, Thrivent and Silver Star Brands.