Two former program participants who are assets to the Grand Chute Goodwill. These Goodwill team members are making an impression and continue to grow and amaze everyone around them.
James' introduction to Goodwill started through Project SEARCH, an internship program that provides employment and educational opportunities for individuals with developmental disabilities whose goals are to obtain employment upon completion, in 2015. When he graduated, he was hired at Goodwill NCW's Shiner Center. He left that job on good terms to take a full-time position at a nursing home.
In 2019, he returned to Goodwill after applying for a job at Grand Chute based on a recommendation from former Store Team Leader Dale Wundrow, who was a friend of James from church, Store Team Leader TJ Bouton said.
James started as a cashier and has continued to grow and develop by getting crossed-trained in nearly all areas of the store.
"He's very proud that he's had two years with us," TJ said. "He's an essential part of the team."
James, who has autism and some developmental issues brought on by periods of abandonment by his biological parents, is known for his personable and friendly nature.
"For him now to be a full-time team member and to be crossed trained in every area … is just a really cool story," TJ said.
James also is someone who makes a lasting impression on customers, as evidenced by Google reviews, customer survey responses and an interaction with a donor who emailed about her experience.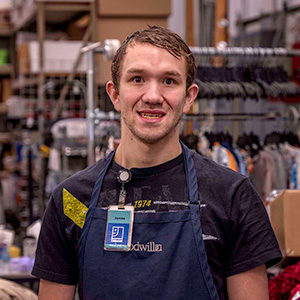 "It made such an impact on her," TJ said.
A woman from Milwaukee was moving her mom into a senior living facility in October and had an emotionally difficult day when she stopped by the Grand Chute Goodwill to drop off donations.
"The night I had the blessed interaction with James was a horrifically stressful day, by which had me saying multiple prayers to God, as I drove my SUV filled with donations over to the Goodwill," Kristin said in an email.
"Unbeknownst to me, God answered my prayers in the helpful, graceful, dedicated, humble, hard-working, kind, caring, loving, polite, merciful James. What I had experienced in his personal work ethic and dedication had me parking my car to share with his team leader — what lead us both to tears!"
Becky, another former program participant who started at Goodwill through the School-to-Work program and has been at Grand Chute 18 years, also is making positive impressions on those around her and showing incredible growth. The School-to-Work program provides valuable work experience for high school students with disabilities through a cooperative effort between Goodwill and area school districts
"For the longest time all Becky did was return rack," TJ said, adding that with a change in the backroom processes that allows for more mission presence, leaders were able to try her at the donation door.
Because change is hard for her, the new role was a bit overwhelming at first, but her confidence has grown so much that she now trains others on the donation door and can talk with donors about what we can and can't accept. The part-time team member is now one of the main donor greeters and also is being trained on other roles.