According to decluttering and downsizing expert Matt Paxton, our stuff holds us back, but we hold on to the stuff. Start spring cleaning with these decluttering tips.
The author of "Keep the Memories, Lose the Stuff," has been chosen to serve as an international spokesperson for Goodwill. Paxton hosts the Emmy-nominated public television series "Legacy List with Matt Paxton" and has been featured in the hit A&E TV show, "Hoarders."
"As I wrote 'Keep the Memories, Lose the Stuff,' I realized how important donating items is to my mission and to my clients," Paxton said. "One of the first rules of donation is to find an organization that aligns with your personal mission and morals. I chose to work with Goodwill because of its purpose-driven mission of providing people with training and jobs."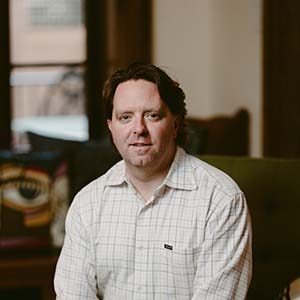 April is the traditional time in Wisconsin for spring cleaning. To help, here are Paxton's nine steps to decluttering your home.
Define your finish line. Know what your goal is and your why. Are you clearing out a space to make room for a nursery or are you downsizing your entire home? What's your motivation? Knowing why will keep you focused when the cleanout gets challenging. I personally write my why on a piece of paper and hang it in the room so I see my motivation during the entire cleanout.
Take it easy. Start slow and take a small area like a junk drawer, car trunk or a shelf and try to finish it in one sitting. A 10-minute sweep is a technique I've used for 20 years. Clean every night for 10 minutes. Get the job done and enjoy the clean space you have completed. Taking on a space that is too large or trying to clean for eight hours straight will set you up to fail. The goal is to finish the job, not burn out in the first day.
Figure out what to keep first. Focus on your legacy list items that are must-have items that will tell your family story once you are gone. You want to choose your must-have items before you start getting rid of things.
Focus on donating next. Think about nonprofit organizations, family members and friends when donating. Mark them for donate and get them out of the way. If a family member wants the item, set a specific day for everyone to pick the items up. If the items aren't picked up than you are free to donate them to someone else. Giving items away to a nonprofit or someone in need is much more fulfilling than selling an item.
Figure out what to sell. Look around the home and sell the big items you know you don't need anymore. Workout equipment, bikes and furniture can be sold online and on specialty apps. Do your research and remember your time has a financial value as well. Don't spend six hours trying to squeeze an extra $5 out of a used grill.
Have a friend present to help. Tell the stories of the items you are letting go. Whether you are selling, donating or keeping, your friends and family need to hear the stories behind the items. You'll also find it easier to let go of some of the items as you share the amazing family stories attached to them. Memories live on forever, but your mother's old encyclopedia collection can go.
Document the stories. Keep a pad and pen around or record your stories on your cellphone, but the next generation will want to hear the stories, too.
Celebrate your successes. Cleaning can be fun and fulfilling. Remembering your finish line and seeing the progress will feel great and keep the momentum going.
It's just stuff. No matter how hard the cleanout can get, remember, at the end of the day, it's just stuff. You didn't have it coming into the world and you won't take it with you.