Marge Cockeram recently retired from the Eau Claire Goodwill after 17 years as a team member in production, the area of the store that sorts and prices donated items before they go to the sales floor.
"The friends I made in my many years at Goodwill NCW and the friendliness of the team and leaders is what kept me coming back," Marge said.
Marge's role focused on processing hardline products, ranging from kitchen appliances to photo frames, but her specialty was glass. Much like clothing or purses have name brands or designer brands, glass does too. Marge knew all the glass brands, and she could tell when an item was made or if it was a remake just by looking at it. All questions about glass were directed to Marge, and she went above and beyond to ensure customers had the best quality and a large selection of glass to shop.
Her warm and friendly personality added to the positive team atmosphere and made Marge a perfect candidate to train new team members in different areas of production and merchandising on the salesfloor. Marge also taught Eau Claire area high school students participating in Goodwill NCW's School-to-Work program how to merchandise glass during their job training in the store.
"When I first met Marge over 14 years ago, she made me feel comfortable while I was training in hardlines and glass," Mary Jarosz, Production Team Leader at the Eau Claire Goodwill said. "Everyone who worked with Marge enjoyed her infectious laugh and her ability to stay positive while also ensuring she reached production goals."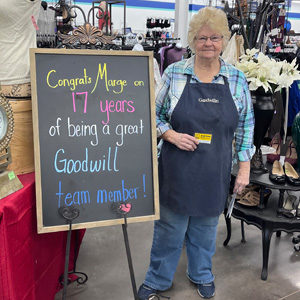 Marge was one of the first team members to volunteer to travel to help set up new Goodwill NCW stores. Her skills as a forklift driver and ability to load trailers were a big help when opening the Onalaska Goodwill location in 2010, for example.
The team will also tell you that Marge had a reputation as a master of making clever Halloween costumes and wearing them to work, which is perfect when you work for The Original Halloween Headquarters. One year, she arrived in a very memorable exterminator costume with bugs all over the shirt and mice all over the shoes.
"The entire team will miss Marge very much, but we all wish her well with her retirement and believe she will be a regular shopper. We will not forget all the lives that she has touched," said Mary.