Updating your space can be fun, easy and affordable! With a little creativity and some basic supplies, you can give any piece of furniture a new lease on life. There is always a great selection of furniture at Goodwill NCW stores to inspire you. We bought this standard side table and revamped it with a geometric Art Deco aesthetic. This upcycled project is a great way to bring a touch of vintage glamour to any room in your home.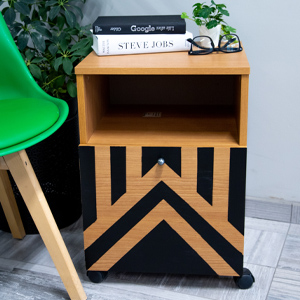 Shop for inspiration
Allow your creative ideas to flow by walking through the store. The hunt is the most rewarding part! There are so many great finds that are waiting for you to give them a second life.
Gather supplies
With a few simple steps, you can create this vintage look. Once you find the piece of furniture that speaks to you, start by collect these supplies.
Side table
Painter's tape
Box cutter
Paint (Recommended: Paint and primer all-in-one)
Paint brushes
Ruler
Washcloth
Drop cloth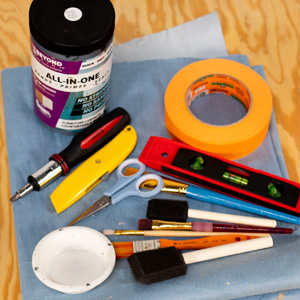 Have fun!
Art Deco was a popular design style from the 1920s and 1930s known for its bold geometric patterns. Searching for an Art Deco design that fits your style can be really fun. Find a design that you love and go with it. If you decide to tackle this project and make your own, please share photos with us on Facebook and Instagram!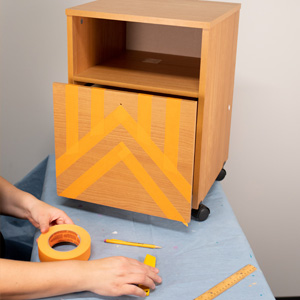 If you missed it…
Check out the other upcycled projects we've recently featured and get inspired to create your own unique fashions and décor.