Time flies when you love what you do. Just ask Tammie Penney, Goodwill NCW's most tenured team member to date. She started on September 18, 1978, and retired March 3, 2023, with more than 44 years of service.
"I loved coming to work because of the great people I worked with and the awesome customers that came into the building. I was very proud to work at Goodwill," Tammie said.
Tammie started at Goodwill NCW through a program of ADVOCAP, a Community Action Agency that empowers individuals to overcome barriers and increase self-sufficiency, work that aligns closely with Goodwill NCW's mission of Elevating People by Eliminating Barriers to Employment. After several months, she was hired as a full-time Goodwill NCW team member.
Tammie has experienced both organizational and personal change during her time at Goodwill NCW. She started in the Menasha Goodwill production area working on a conveyor belt. Tammie worked in this area for about 15 years, then when the conveyor belt was removed, she sorted clothes at a production table for another seven years.
After being in production for so long, she made an exciting career move to the sales floor. In 2005, Tammie transferred to the Darboy Goodwill where she worked on the sales floor displaying merchandise on the racks and shelves. This is where she finished her career.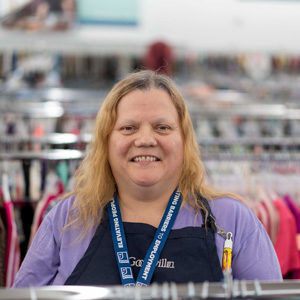 "It has been awesome to work with Tammie. She really loved the sales floor," said Becka Martilla, Store Team Leader at Darboy Goodwill. "Tammie wanted to make sure that every team member succeeded in their job, so she always shared her knowledge with others. Because of her experience, Tammie was also able to come to the production area to help train new team members on how to hang and sort apparel. Tammie did not hesitate to help in any area we needed."
Tammie has been described as Darboy's Sunshine because of her laughter and her rapport with others. She was often the first person to greet her fellow team members during their shifts. If someone was having a rough day, she was known to lend a listening ear and would help turn their day around.
She appreciates the stability her job has brought to her life and the positive impact the team has made on her. Tammie, who has two grandchildren with disabilities, has gained insights along the way about how to treat people with disabilities with kindness, patience and respect and she likes to serve as a leader and mentor to them. They are lessons she can apply to her own family, she said.
"Goodwill has done the best for me, and I'm very thankful for all these years," Tammie said. "In my retirement, I am looking forward to focusing on myself. I am very excited that I will be able to go for more walks and have more time to spend out in the world."
Goodwill NCW wishes Tammie the very best in her retirement and thanks her for the excellence she brought to the team for so many years.