How to create your own unique glassware set
Try this fun project for any glass pieces you find while thrifting. Transform vases or other glass décor from basic to classy with a little bit of paint.
Supplies:
– Thrifted glass pieces of your choice from your local Goodwill NCW
– Spray paint (we love the designer look the metallic paint added to these vases)
– Painter's tape
– Rubbing alcohol
Instructions:
Remove any stickers from your glassware and clean with dish soap. Rinse. Dry.
Wipe down any areas you plan to paint with rubbing alcohol.
Tape off the area of glass you do not want to be painted.
Lightly spray paint the exposed areas of glass. Thin layers will ensure the paint doesn't run.
Remove tape, find a safe area for them to air dry.
Voila! You now have your own unique matching set.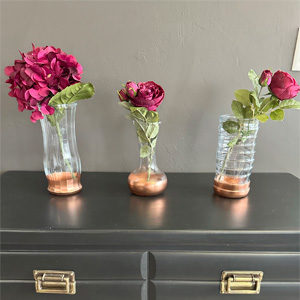 Shoes
Did you pick up a pair of thrifted shoes that need a little love to make them like new again? Acrylic leather paint can work magic!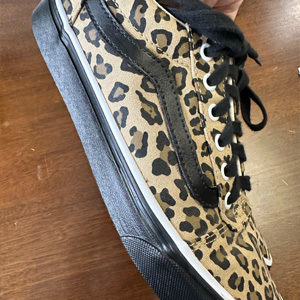 Supplies:
Acrylic leather paint
Paint brushes in your size of choice
Clean shoes
100% Acetone
Plastic gloves
Paper towels or cloths
Painter's tape
Exacto knife, if needed
Instructions:
Wear gloves and use paper towels or old cloth to apply acetone to any areas you plan to paint. This will help the paint adhere.
Tape off any areas you do not want painted. An Exacto knife can be used to lightly cut away small areas of tape for precision.
Paint any exposed areas. You may need multiple layers to get the desired effect. Let air dry in-between layers.
Let air dry completely.
Wear your newly restored shoes and show them off to the world!
Baskets
Transform a thrifted basket into a new decorative piece for your home. Find a wide selection of baskets of all shapes and sizes at Goodwill NCW.
Supplies:
Baskets
Painter's Tape
Spray paint (color of your choice)
Instructions:
Pick a design. Find photos online for inspiration.
Tape off sections on your basket, leaving only the areas you'd like to paint exposed.
Spray paint the exposed areas. Remember to use thin, light coats to avoid paint drips. Let air dry in-between layers.
Remove the painter's tape from your baskets.
Let air dry completely.
Use your newly decorated baskets for gardening, in the kitchen or for stylish storage in your home!