Registration for the 2023 season is underway
Menasha, WI — Registration is now open for the Miracle League of the Fox Valley, Miracle League of the Lakeshore and Miracle League of the Chippewa Valley, programs of Goodwill Industries of North Central Wisconsin (Goodwill NCW). Miracle League offers children and teens with disabilities the opportunity to play baseball in an organized, non-competitive league on a safe, accessible baseball field.
"Miracle League is such a highly anticipated part of the summer for families," said Jennie Moore, Vice President of Programs and Partnerships at Goodwill NCW. "The league is all about enhancing social skills, building self-esteem and being treated just like other kids."
The season is eight weeks long beginning in June. Throughout the season, players ages four to 19 are paired with community volunteers who assist and encourage them during the games. Volunteer pitchers, umpires, announcers, coaches and team helpers also are needed. The general public is invited to attend the games as supportive fans.
Players and volunteers can register online, starting February 1.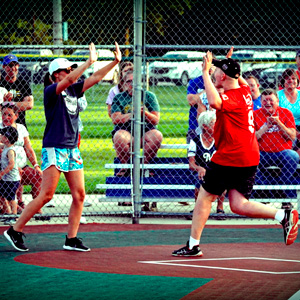 Miracle League of the Fox Valley, Appleton
Location: John Wollner Fox Cities Miracle Field at Memorial Park in Appleton
Learn more or register online: goodwillncw.org/mlfv
Registration ends March 10
Miracle League of the Lakeshore, Manitowoc
Location: Goodwill Miracle Field of Dreams at Miracles Park in Manitowoc
Learn more or register online: goodwillncw.org/mll
Registration ends March 31
Miracle League of the Chippewa Valley, Eau Claire
Location: Miracle Field at Jeffers Road Park in Eau Claire
Learn more or register online: goodwillncw.org/mlcv
Registration ends March 31