As you embrace the holiday spirit and look to transform your home into a festive wonderland, Goodwill NCW is your ultimate destination for creating a unique and one-of-a-kind yuletide trim that breaks away from tradition. Don't limit yourself to the tried-and-true; instead, let your creativity flourish with these innovative ideas.
Deck the walls:
Winter scenes and holiday wreaths can be used to replace or accent your surroundings. Whether you choose a rustic wreath, a snowy landscape painting, or a festive wall hanging, your walls can be a canvas for your unique holiday spirit.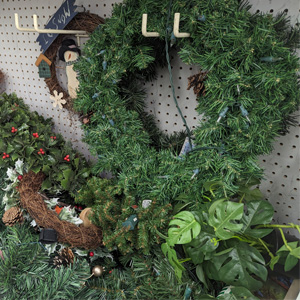 Illuminate your living space:
Goodwill NCW can help you fill the air with holiday scents like pine, baking or whatever triggers the feeling of season for you with a variety of candles. Look for lamps and lights that set the mood, whether it's for coziness or celebration.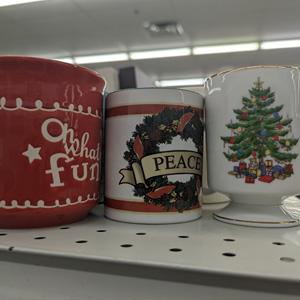 Cozy-up the kitchen:
The holiday season is all about cozy gatherings with loved ones, and your kitchen can be a hub of festive cheer. Goodwill NCW is a treasure trove of merry mugs, seasonal glasses and dazzling dishes that will elevate your meals and drinks, making your holiday get-togethers even more special.
Try a color scheme:
Coordinate your tree decorations with the rest of your living space. Have a white tree? Consider a peppermint vibe, incorporating red and white pillows and blankets for the couch. For those opting for a trendy earth tone, pairing wood, copper or burnt orange ornaments with a traditional green tree can create a cozy and inviting feel. For a more unconventional touch, explore unique combinations like pink, purple, and icy blues, adding a splash of whimsy and individuality to your holiday decor.
Santa's, bells and elves:
Let your holiday spirit run wild with the abundance of decorations you'll find at Goodwill NCW. From classic Santa figurines to charming elves and jingling bells, you can transform your mantle, kitchen table, wall shelves or any available space into a festive wonderland. Create a holiday community by adding snow-covered houses and trees, whether they're ceramic treasures or cherished homemade creations. Your unique display will be a conversation starter and a reflection of your personal holiday magic.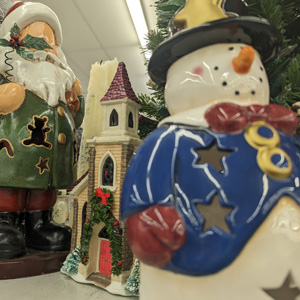 As you embark on your holiday decorating journey, remember that tradition is just a starting point. Goodwill NCW is here to inspire and support your creative vision, helping you craft a holiday home that's as distinctive as you are. This season, let your imagination take the lead, and may your home radiate the warmth and joy of the holidays in its own one-of-a-kind way. Happy decorating!