Thrifting is a popular way to shop. Of course it is! Not only is thrifting a fun way to find unique treasures, it's also more sustainable and less expensive than buying new. In fact, if everyone would buy one used item in the next 12 months, it would save 11 billion kilowatts of energy, 25 billion gallons of water and 449 million pounds of waste, according to Green Story.
Not sure how to get started but want to jump on board? Check out these 8 tips on shopping thrift for beginners.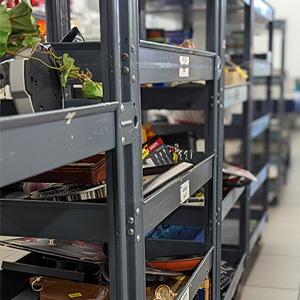 Stop in often
It can be worthwhile to get to know staff members and learn when items typically are restocked. Donors often do their drop-offs on Saturday or Sunday, and donations hit the store floor quickly. If the store doesn't have what you are looking for, swing by the next day as thousands of new items arriving daily. It pays to stop often.
Try it on
It can be helpful to try on your finds before you buy. This is especially true with vintage clothing. The sizing has changed significantly over the years. According to the American Society of Testing and Materials, what is currently a size 8 was a size 16 in the late 1950s.
Get inspired
Thrift stores can be overwhelming because there is so much to choose from so beginning thrifters will want to have an idea of what they are shopping for. For example, if you are looking for oversized T-shirts, check out the men's section. Need some inspiration? Check out our Pinterest page. Just be sure to check out the entire store while you are there since you never know what you might find!
Know the sale days
Knowing sale days is key. Check out Goodwill NCW's color of the week schedule for items at 50% off. Every Tuesday seniors ages 60 or better receive a 10% discount. On Wednesdays, all military personnel and veterans receive a 10% discount on donated merchandise. Many thrift stores offer a rewards program, and it pays to look into royalty programs. Goodwill NCW has Good Points, where shoppers earn one point for every dollar spent on donated merchandise and receive $5 off a purchase once they reach 100 points. Sign up online or visit your local Goodwill NCW store. Earn more rewards throughout the year by including an email.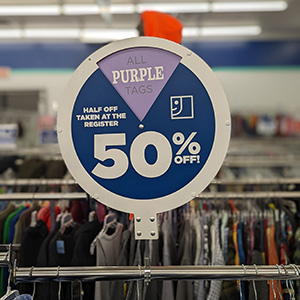 Check the boutique section
The boutique sections offer name brands at a discounted price. Shoppers who pay attention to labels or want trendy home décor for a fraction of the price can discover cool finds in the boutique section. Keep an eye on the tags here, too, because the color tag of the week can save you even more!
Check labels
Just because you are shopping secondhand doesn't mean that everything in the store has been used. You often can find clothing, accessories, shoes and household items that are new with tags. Nothing beats scoring something new at a secondhand price!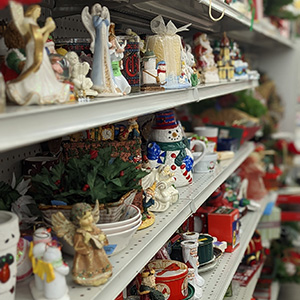 Shop off season
You may find a lot of success when shopping for winter items in the summer and summer items in the winter. Most likely no one is looking for a winter jacket in spring, so there won't be as much competition for them. Keep the change of seasons in mind when shopping. When people switch out their wardrobes, you may see an influx of winter items in spring, for example.
Repurpose items
Be open-minded. While walking through the aisles, look at items in a different light or for a different purpose. If you are a do-it-yourselfer, chances are you will find inspiration and materials for your next project. For example, turn a flannel shirt into flannel rag garland.
These 8 tips on shopping thrift will turn you from a novice into a seasoned pro in no time. We look forward to seeing you soon!