As the weather warms up and campgrounds start to open, we start to think of outdoor adventure. If you are new to camping, you will find very quickly that the cost of gear can stack up fast, or if you are a grizzled veteran looking to add to your needs, why break the bank? Save some of your cash and lessen the impact on the environment by shopping thrift for camping gear from your local Goodwill.
Buying secondhand camping gear not only keeps items from the landfill, it makes sense to spend less on items that can get dirty and worn out quickly.
Here are a few budget-friendly items you can pick up from your local Goodwill.
Cookware
Delicious meals and s'mores cooked over a campfire are one of the best parts of camping. Leave your nice cookware at home and pick up necessities you don't mind getting scratched, scuffed or lost while you are camping. Don't forget to grab a campfire roasting fork to safely roast your marshmallows and hotdogs.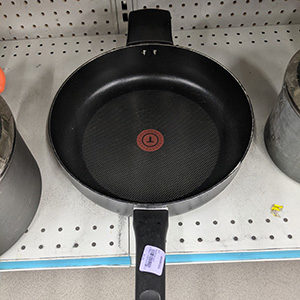 Water bottles
Staying hydrated is key when playing outside in the sun all day. While you are shopping for your cookware and other camping items, keep an eye out for water bottles in all shapes and sizes.
Clothing
Dressing in layers is part of the camping experience. While temps are cool in the morning and evening, you'll be wanting shorts, tees and tanks for the daytime. Make sure you have it all covered.
Sweater: There's nothing like being wrapped in a warm and cozy sweater by the fire at night.
Shirts: You can find endless options for shirts from long to short sleeve, from lightweight to heavy.
Pants/shorts: Shorts or pants, just make sure they are comfortable. If they wick away moisture, all the better! Grab a pair of cargo pants/shorts if you plan on adventuring away from your campsite. The pockets will come in handy.
Swimming suit: There are a lot of new-with-tags options, don't forget to grab a towel.
Shoes/boots: Whether you need shoes, sandals, hiking boots or rainboots, be sure you are ready for wherever adventure takes you.
Other essentials
While you are shopping for cookware and other common items, be on the lookout for other camping essentials. Items like a sleeping bag, blankets and new pillows from Goodwill can keep you comfortable while you are away from home. You're going to want a relaxing camping chair for sitting by the fire at night. Don't forget to pair it with a soft cozy blanket.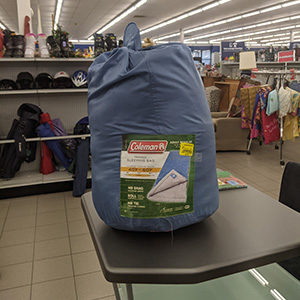 Totes: These are versatile items that can be used to carry your goodies to and from the car. You also could use a picnic basket to carry your food while you are exploring the great outdoors.
Cooler: An essential item that you will need for tent camping, a cooler will keep cold items cold and all your campers safe.
Tiki torches: Keep the bugs away while creating a fun atmosphere. You also could make your own by grabbing some glass bottles from your local Goodwill, a wick and some citronella fuel. See this article from HGTV on how to create your own.
Lights: When it gets dark you're going to want a way to see around the campsite. Pick up flashlights and lanterns so you can find your way.
If you decide you don't need a piece of your gear or replace it in a few years, donate it back to Goodwill and support your local community.