DIY Earthenware Vase Project Steps
This DIY earthenware vase look is an easy way to take a plain thrifted vase and turn it into something absolutely beautiful! This DIY tutorial will show you how to give your vase a textured clay pottery look. You can choose any shape or size vase, creating your own unique earthenware-styled vase.
Supplies needed:
Glass vase thrifted from your local Goodwill
Acrylic paint in your choice of color
Paint brush
Baking soda
Paper towel
A bowl or plate to mix ingredients
Wipe down, clean and dry your vase so that any stickers or price tags are removed.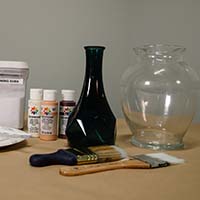 Mix equal parts of the acrylic paint with baking soda. This will give the paint texture.
Paint a coat onto your vase. You can use whatever painting method you choose, going at an angle or painting straight up and down. Let your creativity shine!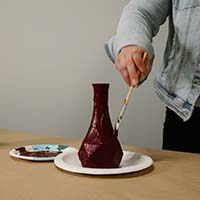 Let the first coat dry thoroughly.
Once it is dry, add a second coat of paint mixture. Let the second coat dry before enjoying your finished vase.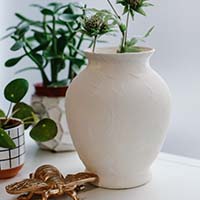 These DIY earthenware vases are quick and easy to make, turning something old into something new. Enjoy your unique textured earthenware vase and consider gifting one to a family member or friend.