Just about everyone I know is, in some way, striving to become more eco-conscious. But at times the whole process can seem overwhelming. Don't let yourself feel too bogged down because even small changes can make big progress. If we can each adjust our habits little by little, over time we can positively impact the planet in a major way without feeling overwhelmed. Here are 5 earth-friendly habits to embrace to get you started.
Rethink straws
Swap to biodegradable paper or stainless steel reusable straws. Do you get drinks on the go? Disposable plastic straws may seem tiny and insignificant, but if you treat yourself to a slurpable drink once a week, that's 52 straws per year that you're contributing to landfills. And since plastic doesn't decompose like paper, though you only used each of those straws one time, they may take up space on our planet for hundreds of years or more! Even worse, as they do eventually break down, they can have toxic effects on wildlife and the planet.
But if those Monday morning iced coffees or Friday afternoon smoothies feel like they're the only things that get you through the week, don't break your habit—adjust it! "Green" your habit by consuming less plastic. Bring a reusable cup and reusable or biodegradable straws. Find travel cups and straw sets at Goodwill.
I also saw this darling little sectioned basket while I was thrifting this weekend. If you need a reminder to grab a straw on your way out the door, try popping this on the kitchen counter in plain sight and create a cute display with colorful paper straws or stainless steel ones. If they're right out in the open, you're more likely to make it a habit to grab one on your way out the door.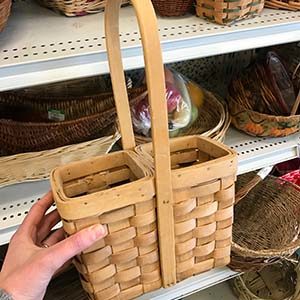 Add some plants
The second of the five earth-friendly habits to embrace, adding air-cleaning greenery to your home. Does your weekly routine include watering plants? Certain plants can help to remove toxic chemicals and pollutants from airspace, contributing to cleaner indoor air. Once you're in the habit of caring for spider plants, snake plants, peace lilies or whichever air-cleaning plant you choose, you'll be able to breathe a little easier and take your green thumb outdoors!
Since one of the main functions of plants is consuming carbon dioxide and producing oxygen, the more plants you can introduce to your environment (inside or out), the better it is for your health and the health of our planet. Try to get at least two plants per 100 square feet inside your home or office. Instead of buying new plastic planters, scope out the options at Goodwill that have already lived one life. But don't limit yourself to real planters. What secondhand items catch your eye that can be repurposed to pot plants?
Start a compost
Instead of tossing your biodegradable scraps in the trash, look for a compost pail at Goodwill to start making your own healthy soil. If you have yard space, create a compost pile outside to build rich dirt from your waste material. Not only will this decrease the amount of trash you send to the landfills, it also will minimize your output of methane (a greenhouse gas that has increased substantially due to human activity and is contributing to climate change).
Pack utensils for lunch
Make an Earth-friendly utensil travel set from thrifted silverware. Wrap it up in thrifted fabric tied with a bow and toss it in your lunch containers, car or wherever you dine on the go! Get in the habit of carrying it around so you'll never need to grab plastic silverware. You could even add your Earth-friendly straw.
Layer up
Last of the five earth-friendly habits to embrace, is to not reach for the heat when you're cold! Instead of cranking the thermostat up, throw on an extra layer. Just remember that not all layers are created equal; look for wool socks and sweaters or down vests. These natural fibers are seasonal staples that have been keeping people warm through frigid winters long before we had the heating options we have today. By changing this habit you'll use fewer fossil fuels and create less pollution. You'll also save money — win, win! Shop Goodwill for snuggly sweaters, down vests, wool blankets and more. So cozy!