Upcycle an old sweater into lovely ornaments – perfect for decorating a tree this holiday season!
DIY Sweater Ornaments Project Steps
Supplies needed:
Sweater
Scissors
Fiber Filling
Needle
Thread
Tracing Materials
Beads
Turn the sweater inside out and place it on a flat surface. For this ornament, we traced the bottom of a cup to make a nice circle. You can also freehand a design or trace an object to get the shape you desire for your final ornament. Once you have your outline, use pins to secure the two halves of the sweater together and cut around the shape.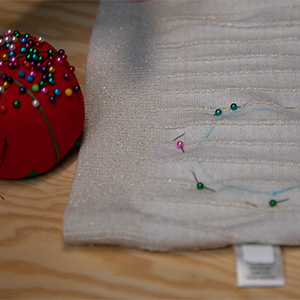 Thread your needle and begin sewing both layers of the sweater together, following your pattern outline. Leave a 1" gap at the end for an opening. Trim any remaining extra fabric and turn your ornament right-side out. Fill the shape with fiber filling and sew it closed.
Next, add beads to the thread and sew the string of beads to the ornament for easy hanging. You could also use a fun ribbon or embellish the front of the ornament any way you like.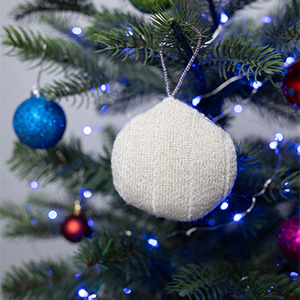 Hang your new DIY sweater ornaments on your tree and enjoy!