Do you ever wonder how some people seem to have such good luck while thrifting? Do you wish you knew the inside scoop on how to score unique pieces? Luckily for you, I'm here to spill the tea on how I've managed to thrift my ultimate wardrobe and continue to score one-of-a-kind items every time I shop at Goodwill North Central Wisconsin (NCW).
If you enjoy thrifting and are looking to add more pieces you love to your closet, keep reading—these tips will help you get the most out of your next trip to Goodwill.
Look in all of the sections
It can be intimidating going to a section you aren't familiar with but taking an extra lap around an unfamiliar section might just be worth it. I like to swing through the men's section to scope out fall flannels and comfy crewnecks. It's also important to have an open mind. Looking in the children's section might just lead you to the perfect crop top. Checking out the women's outerwear might lead you to an unexpected new staple winter jacket.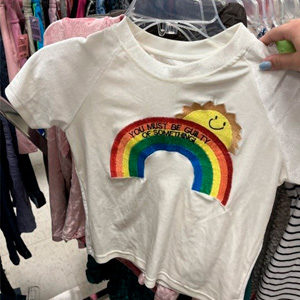 Hunt for specific textures and colors
Do you have a favorite brand? If you answered yes, learn how to spot items from that brand. Does your favorite brand feature specific colors or materials? Does the brand have a distinct tag? These are things to keep in mind when you're scavenging the racks. It's also important to keep an eye out for things you know you will feel special and confident wearing. If you have a favorite color, or a specific material that you know you'll love, keep your eyes peeled when you pass through the racks of clothing.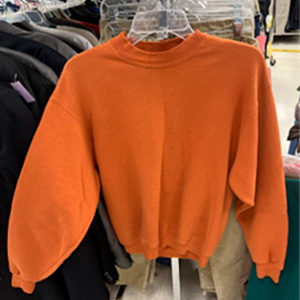 Have a vision before you walk into the store
Utilize resources such as Pinterest to find pieces that really speak to you, then head to your local Goodwill and find ones that are similar. If you believe in manifestation, what you think about becomes your reality. If you're constantly thinking about a chunky, pink knit cardigan, you're bound to eventually find one. If you are looking for fall clothes, try to have a color palette in mind. Keep your vision clear, but also don't be afraid to search outside of your scope!
Don't be afraid of the size on the tag
Have you ever come across an item that you love, but it's just not the right size? Why should that stop you from purchasing it? A simple alteration at the sewing machine, calling up a friend who sews or making an appointment with a professional can fix that scenario. One time I fell in love with a pair of patchwork pants that reminded me of my childhood, but they were double my size. A quick call to my grandma allowed me to give the pants new life.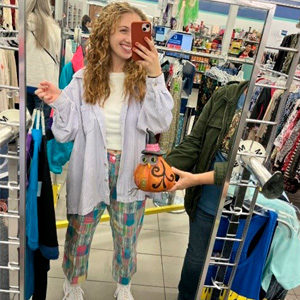 Get in the zone
It's important to be focused while you're thrifting. If you need a pick-me-up, Goodwill has that too. Purchase a quick snack or beverage near the registers to keep you energized while thrifting. Shop at a time that's right for you. If the energy of bigger crowds on the weekend fuels you, stop in then. If you enjoy a quieter shopping experience, a weekday might work better for you. And remember, if the store doesn't have what you are looking for one day, swing by the next day as thousands of new items arrive daily. Also, try to keep an eye out for items that have the colored ticket on sale for the week. Pro tip: You will find the most 50% colored tag items on Sundays because that's the day the color tag switches each week.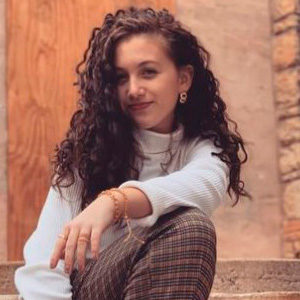 About Brooke Nelson: Brooke is a student at UW-Stout who has a passion for fashion and a knack for thrifting. You can find her on Instagram @brookeenel