I know it sounds a bit fantastical and magical, but the 2021 release of "Encanto" still has a tight grip on pop culture. Children and adults alike have been drawn in by the catchy soundtrack, meaningful storyline and many colorful characters to resonate with. With Goodwill as The Original Halloween Headquarters, this means, fun costume options are in store! Whether you're more of a Maribel, Louisa, Isabela or Bruno, we've got your costume covered. Welcome to the family Madrigal!
Mirabel
What you need:
Short black curly hair or wig
Green round glasses
Blue circle earrings
Pink strappy sandals
White blouse with ruffled sleeves
Long teal embroidered skirt
Brown crossbody bag
Maribel is the empathetic and quirky protagonist in "Encanto." You can achieve her look easily with the items listed. If you want to get more creative, add detail to the top and skirt with fake flowers, embroidered stitching or iron-on patches. You could even make a white lace false collar if your shirt doesn't have one. But as long as you have the round green glasses, dark curly hair, a white top and long teal skirt, the costume will be easily recognizable.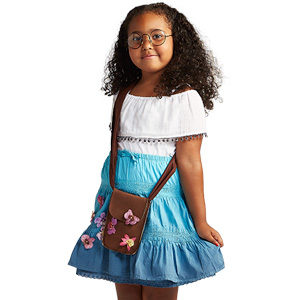 Luisa
What you need:
White puffy sleeve shirt
Dark blue flats
Long purple skirt
Red hair ribbon
Woven cloth bracelets
Fans can't seem to get enough of the strong and beloved donkey-carrying, middle-sister Luisa Madrigal. You should be able to find a puffy sleeve shirt, thick bracelets and dark blue flats at most Goodwill NCW locations; if you can't find it at one store, shop around at a neighboring location. If you don't have a red ribbon to wrap around a low bun, cut up a thrifted red shirt to make one.
Isabela
What you need:
Long dark hair or wig
Purple flowing floral dress
Fake flower (to wear in hair)
Purple studded earrings
Purple flats
Isabela, the eldest of the Madrigal sisters, has the power to conjure flowers and plants, so finding (or adding) floral elements to this costume is a must. At Goodwill NCW, you never know what you will find. You could find this perfect dress in the Halloween section or dress section; it could be a formal gown that was used a bridesmaid dress or a princess costume that could work perfectly. You might find a flowing, purple dress you can add your own flowers to, or you might find the perfect white floral dress you can tint purple with some dye. Another option is to wear a floral dress and throw paint all over it to match Isabela's look in the latter part of the movie.
Bruno
What you need:
Curly black wig
Maroon pants
Maroon button up
Green poncho
Fake rat
Brown sandals
Purple eye shadow
The truth is, we do talk about Bruno, mainly because we can't seem to get the hit song out of our heads. The most important elements of this costume are the green poncho and fake rat, as they are the most telling accessories of the costume. Bruno seems to be wearing a maroon-colored, button-up, long-sleeve shirt underneath his poncho, but because this element is mostly hidden, something similar will work. The same is true for the for the maroon pants. Another defining characteristic of Bruno's is that he has purple bags under his eyes, which can be accomplished with Halloween makeup or purple eyeshadow.
These costumes would be great on their own but also would make for a fun group costume idea. If you have more people to include, no worries, there are plenty more Madrigal family members we didn't mention that can be added for a look that hits all the right notes!
For other fun ideas, including hair and makeup tutorials, one-of-a-kind costumers and festive decorations, visit the Original Halloween Headquarters website.