As the Original Halloween Headquarters, Goodwill NCW has everything you need for the season and is the place to be for adding flair or scare to your costume. Create unique looks or capture the essence of your favorite characters. Let your creativity flow and infuse new life into old threads with costume ideas inspired by vintage dresses found at Goodwill NCW.
Plenty of Princesses in the Sea
Delve into the magical world of Disney characters with your vintage dress as the canvas. Transform into your favorite princess, whether it's Belle from Beauty and the Beast or Cinderella herself, there are so many princesses to choose from. Accessorize with props like books or glass slippers to make your costume unmistakably enchanting. Goodwill NCW's unique finds can help you find items for all your favorite fairytale characters.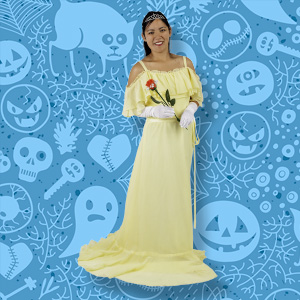 Marsha, Marsha, Marsha!
Embrace the nostalgia of the Brady Bunch era by crafting a retro-inspired costume. Look for a vintage dress with a playful pattern or bold colors that pair effortlessly with knee-high socks and saddle shoes to channel the iconic style of Marcia or Jan Brady. When selecting your dress, seek out key elements like A-line silhouettes and empire waists that defined '70s fashion.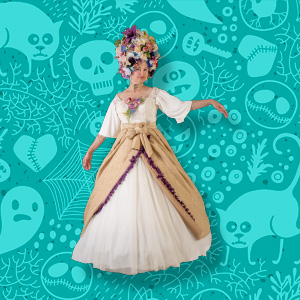 Travel through Time
Head to your local Goodwill and check out the Halloween dress section for vintage options and see what's available in your size. You may find something that embraces the elegance of the Victorian era, embodies the carefree spirit of the '60s, or evokes the bold extravagance of the '80s. Capture the authenticity of your chosen era with accessories, hair and makeup, whether you go with the romance of Victorian refinement or the over-the-top allure of the '80s, just don't forget the giant shoulder pads!
Create a Spellbinding Look
Elevate the classic witch costume by incorporating vintage elements. A dark, flowy vintage dress serves as the foundation, while antique jewelry and a wide-brimmed hat complete the eerie look. Add a touch of mystery with lace gloves and a broomstick to create an enchanting and distinctive witch ensemble.
A Roaring Revival
Amid the diverse array of time-traveling ensembles, there's one that commands a spotlight all its own – the flapper girl ensemble. Step into the captivating aura of the roaring '20s, where vintage dress exudes art deco vibes: straight, sleeveless, and loose, crafted from airy and light fabrics with intricate embellishments like sequins and beads. Finish your look with a feathered headband, cascade of pearls and heels and you've captured the timeless spirit of the flapper movement.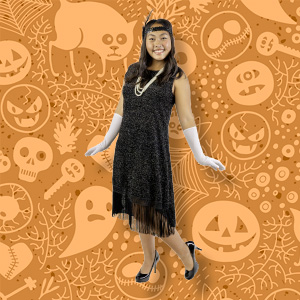 Transform vintage dresses into extraordinary costumes or recreate your favorite characters. Visit our stores for a unique and enchanting Halloween experience and selection that lets your imagination soar, while also shopping sustainably and supporting neighbors in our community.