When it comes to dressing up for Halloween, kids don't get to have all the fun. Inspired by movies, books, pop culture, history and the news, Halloween costumes for adults are inspired and imaginative. Here are 13 Halloween costume ideas that fit the style of the day.
Cat in the Hat: Pay tribute to one of Dr. Seuss' most iconic literary characters in this costume that features a white poufy tutu. Break out a few items from your closet — white shirt and black cardigan — and pick up some ribbon to make a red bow. Slip on some gloves, red- and white-striped tights and that signature hat, and you're youer than you.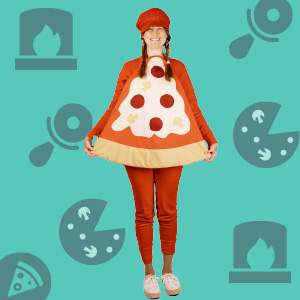 Piece of pizza: This delicious costume will have everyone around you craving some 'za. And who can blame them? This homemade costume topper, so to speak, is easy to stuff — we just can't help these puns! — over coordinating red leggings and shirt. What do you think of the red newsboy cap? Too cheesy? We've got to stop!
Winne the Pooh: This is do it yourself at its best. Oversized yellow pants and a red tee get teddy bear treatment with a vinyl decal with one of this lovable character's most genuine sayings. Best friend Piglet makes an appearance in a small stuffed animal version. Capped off with a yellow hat with pompons stitched to the top and, honey, you've got a winner!
Peacock: When you find a statement dress like this, you have to use it, so a peacock costume it is! A flashy feathery hairclip adds just the right touch along with strappy black shoes. Go strut your stuff!
Elvis: You'll be all shook up by dressing as an Elvis impersonator in this Halloween costume that recognizes one of the greatest performers and influential singers of all time. The one-piece, jeweled jumpsuit is a must and looks legendary with the microphone, wig and sunglasses.
"The Great British Baking Show" contestant: Things are really heating up with this simple costume idea. Grab a black shirt and leggings from your closet and toss on an apron and chef's hat. Carry with you a mixing bowl and spoon, and you're cooking! Splash a little flour on your face for an added effect.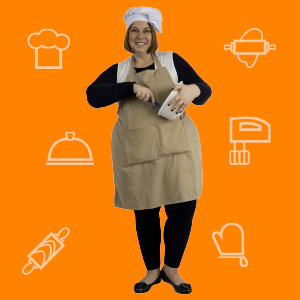 Beauty: Disney's Belle is the belle of the ball in this yellow gown perfect for a beloved princess. The white gloves and crown give the costume the regal sense of royalty it deserves. A rose makes the perfect accessory. Going as a couple? Well, add the Beast, of course.
Woodland creature: Think mossy and natural for this wild and unique costume idea. The jagged-edge one-piece represents the forest floor, complete with orange and yellow fall leaves. Add some hunter green tights and strap on wings to let your look take flight. To make it a group endeavor, add fawn, fox, bear, owl, rabbit, raccoon, wolf and other creatures.
"Downton Abbey"-inspired socialite: Let this British historical drama TV series inspire you this Halloween. Represent the aristocrats of the time, which is set in the early 20th century, with a handmade, satin and lace vintage dress like this one. If the dress were sleeveless, you would want to add long gloves in addition to the pearls and headpiece.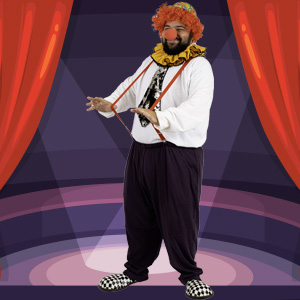 Clown: It's all fun and games with the costume made for someone who is the life of the party, and that's no joke! Don a one-piece jumpsuit or go with black dress pants and a button-up white shirt. An oversized tie, suspenders, red nose and fun hat top it off. Let the good times roll!
Black Widow: Dress up as your favorite superhero with this perfect one-piece black suit that is too great of a find to leave behind. We went with gold in our accessories, including bold earrings, big belt, wrist cuff and shield. Feel the power!
Moira Rose: When you are a former daytime soap star, you have to be bold. This eccentric "Schitt's Creek" character is ripe for the imitating. You can't go wrong by tossing on anything in shades of black, white and metallic. Add some fur and fuzzy elements, larger-than-life jewelry and an eclectic wig you wouldn't dare wear out of the house, and you've got the look of this wickedly funny woman. Say it with me, "Bebe."
Thing 1 and Thing 2: These twins from "Cat in the Hat" are worth repeating come Halloween, especially for a pair of friends, couple, or mother and child. It's all about a red jumpsuit and blue wig. Draw or print off Thing 1 and Thing 2 designs (just Google it) and attach to the front of your costume.
For other fun ideas, including hair and makeup tutorials, one-of-a-kind costumers and festive decorations, visit the Original Halloween Headquarters website.