Dreaming about summertime already? Summer means good vibes, warm air and outdoor activities. But with all that fun-in-the-sun, our Financial and Debt Solutions Services team also recommends you make a plan to keep your budget on track. While you get ready to kick back, Teri Horner, Mission Team Leader at Goodwill NCW, has some budget-friendly ideas to keep the whole family entertained.
Healthy frozen snacks
One of the many fun things we did as kids was to eat frozen grapes. It was a way for us to have fun and eat something healthy. Grandma would get the grapes wet, then place them in the freezer. This was a big treat; it was one we would grow up to remember that only happened at Grandma's house.
Waterworks and creative gardens
Grandma would get me a paint bucket and a brush, and she would let me paint the side of the house or the patio wall. I loved the way the fresh paint looked. I would do this for hours. I did not realize until I was older that the "paint" was water, which explained why I never made a mess.
We would also water the plants or run through the sprinklers. I remember once we were able to plant a licorice garden. We would plant little bits of candy in straight rows, and low and behold, they would grow. The next couple of days were magical. My grandmother would go outside and replace the pieces when we weren't looking with longer pieces. The best part was when they were fully grown, they were wrapped in paper and able to be picked (and eaten!).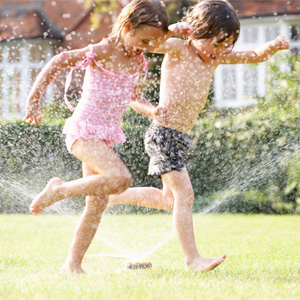 Picnic lunches and scavenger hunts
Spend the day at the beach or park. Pack a picnic lunch, lay on blankets on the grass, or sand and just have a lazy day. If you do not have items like blankets, baskets and dishes to make your trip special, visit your local Goodwill NCW store.
Another one of my favorites is a scavenger hunt, make a list of items to collect then go to a park or beach area to find the objects on the list. I have a scavenger list made for every season, my grandchildren love to do this, they compete and, of course, we have little prizes for them to win.
Starry nights and sleepovers
Try to identify stars and planets in the sky while stargazing. I was able to pick up a very inexpensive telescope at my local Goodwill. We have had many years of enjoyment out of it. Pitch a tent in your yard and camp there overnight, build a bonfire and tell ghost stories.
Local entertainment
Look at your local community calendar to see if there are free or low-cost movies or shows in a park.
This summer, find ways to make each day more beautiful. You don't need a long, expensive vacation to experience new things, feel yourself grow and make adventurous memories. You just need to decide that this summer, you'll wring the best out of each day.
Do you have any fun childhood memories from summer? Draw inspiration from those ideas, and if you are struggling to come up with low-cost ideas that stick to your budget, please consider contacting Goodwill NCW Financial and Debt Solutions Services. We would be more than willing to help you create a spending plan and teach you how to execute it so you and your family can experience a stress-free enjoyable summer.