We're about to spill the cauldron on how to whip up classic costumes with a twist using awesome thrifted finds from Goodwill NCW. We're talking about crafting iconic characters like witches, ghosts, clowns, princesses, and superheroes, created with your own unique touch.
Sustainability Superhero
Unleash your inner eco-champion with a thrifted superhero costume from Goodwill NCW. Select colored leggings, a matching top, and add a cape for the ultimate flair. By crafting secondhand, you're not only creating an unforgettable Halloween look but also championing sustainability and keeping items out of landfills.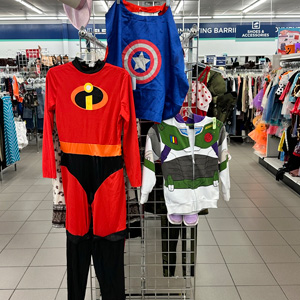 Enchanting Witches
Start with a black dress or skirt from Goodwill NCW as your canvas. Top it off with a witchy hat, some fingerless gloves and a broomstick. Don't forget to add the finishing touch with dark makeup and a sprinkle of glitter. Whether you're going for a wicked witch or a glam enchantress, your Goodwill NCW finds will have you spellbound.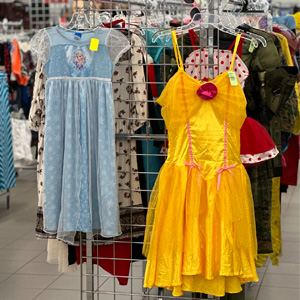 Majestic Princesses
Find a fancy gown or dress at Goodwill NCW that speaks to your royal heart. Accessorize with sparkling jewelry, a crown and a magic wand to complete the look. Glam up with makeup fit for a princess and you're ready to step into your very own fairy tale.
Ghostly Vibes
Ghost costumes are a timeless treasure of Halloween. Glide around in ghostly attire made from a white sheet you scored at Goodwill NCW. Cut out eye holes, throw it over you, and boom, you've got a classic ghost costume! Add a layer of white clothes underneath to make the ghostly illusion complete. It's hauntingly easy and oh-so-awesome.
Clowning Around
Embrace the colorful chaos of a clown costume by mixing and matching vibrant clothes from Goodwill NCW. Start with some roomy pants, a bold shirt and suspenders. Don't forget a goofy bowtie, a funky wig and finish it off with some face paint and you'll be the life of the party!