Workplace Skills
Workplace skills from Skills to Build can be used in the workplace to effectively work with others.
Contact us for more information or to sign up to enhance your workplace skills.
Goodwill Works
Instructor-led
The Goodwill Works curriculum is a tool to help people access opportunity. The curriculum offers a comprehensive approach to successful training, employment and improved quality of life. Individual, family and organizational success depends on the ability to adapt to the challenges of daily life.
Goodwill Works is instructor-led and can be taught one-on-one or in group settings, depending on your preferred method of learning.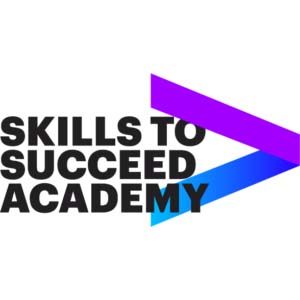 Skills to Succeed Academy
Instructor-led or Self-directed
Accenture's Skills to Succeed Academy is an interactive, online employability training program focused on building the skills and confidence you need to choose the right career, find a job and be successful in the workplace.
Conflict Resolution
Define conflict
List the reasons conflict occurs
Describe the impact of conflict
Name communication skills useful in resolving conflict
Identify steps in a conflict resolution process
Customer Service Relationships
Determine what makes customer service good or not so good
Identify types of customers who may need extra help and what types of help to give them
Express to yourself and others why good customer service is important
Follow some simple rules for handling customer complaints
Follow key steps to solve difficult customer service problems
Apply the principles of good customer service to your teamwork with co-workers.
Organizational Skills
Explain the benefits of organization and planning
List barriers to successful organization
Demonstrate how to apply organizational concepts to home and work environments
Write SMART goals and explain their benefits
Develop an action plan for getting organized at home and/or at work
Team Building
Define "team" as it relates to the workplace
Describe three key characteristics of a successful team
Recognize and appreciate the diversity of a team
Take steps to better work with members of your diverse team
Explain the five states of team development
How to prepare for work
How to work alongside your colleagues
How to stay motivated
Online Modules:
The Night Before – Meet Daniel. It's his first day of work tomorrow, but he's not quite ready. His cousin Rose is trying to help him understand the importance of preparation. 
Getting on Track– Work can sometimes be a challenge. But it can be easier if you pay attention to relationships, attitudes and behaviors, and knowledge and skills.
Ready… Steady… Prep!– You worked hard and got the job offer! What's next? What should you consider before accepting and how can you prepare for the first day?
Welcome to Dizzy Heights– It's orientation day at Dizzy Heights for Karen, Bryan, and Daniel. Help them to navigate some of the challenges that come with starting a new job. What happens when someone asks you to do something that you don't want to do? Or don't know how to do?
Finding Your Feet– How do you make your "first steps" at work successful ones? Do you know how to make a good impression? Learn about being professional and how to be successful in your first few weeks of a job.
Getting to Know You– Do you work well with others? Why is teamwork important? How can you handle conflict? Find out how to build strong relationships at work and how to address issues in the workplace.
Knowing Your Job– You've made it through your first few days at work. What's next? Explore tips to help you to do well once you've settled into your job. Learn about setting objectives, getting feedback, and managing your time, and using your initiative.
Having the Right Attitude– How would you describe your attitude? Attitude is everything, and having the right attitude can make or break your success in work.  Learn about approaches to deal with the realities of work.
Life at Dizzy Heights– It's the second week of work for Daniel, Bryan, and Karen. They have some tricky situations to deal with.
Using Your Skills to Succeed– Been at work a while? Learn how you can stay motivated and continue to do well. Use your new skills to make the most of opportunities and define your career goals.